About
BlastX 108 Flash Rust Inhibitor & Salt Remover was developed, & is also manufactured right here in Australia.
BlastX 108 is the creation of Brant Desmond, who was operating his own dustless blasting business. He was dismayed that nearly all of the top line Flash Rust Inhibitor / Salt Remover additives were manufactured in the USA or Europe, & that there were no quality Australian made alternatives available.
As he had previously worked as an industrial chemist for many years in the 1980's &1990's, formulating industrial chemical products for a commercial chemical company, he decided to put his knowledge and expertise towards developing our very own Australian made Flash Rust Inhibitor & Salt Remover product.
With the collaboration of his many contacts in the chemical industry, & after many, many, hours of trial & error, trying many different chemical combinations, & many more hours of testing in the field to ensure that the product was equal to the very best, BlastX 108 was born as Australia's very own world class Flash Rust Inhibitor & Salt Remover additive for Dustless / Wet / Vapour blasting, and that can also be used as an afterwash for dry abrasive or soda blasting, & also as a flash rust inhibitor for acid bath rust removal.
Learn about the criteria used to develop BlastX 108 Flash Rust Inhibitor / Salt Remover additive, & what makes it a world class product, equal to the very best of the USA made Rust Inhibitor products. Read more below:
The formulation of BlastX 108 required some rather complex chemistry, as we had to make certain that it met 5 clear objectives, High Performance, Zero Surface Residue, Operator Safety, Biodegradability, & Cost Effectiveness. Meeting any 1 of the objectives is not that hard, but in order to meet all 5, we had to be very careful with the selection of ingredients, to ensure that in meeting any 1 of the objectives, we did not compromise the other 4 objectives.
If we selected an ingredient for performance for instance, we also had to ask, is this ingredient also going to meet the other 4 objectives? If not, then we could not include it in the formulation.
We also had to make certain that when combining ingredients, that any changes encountered in any chemical reactions between the ingredients, also did not compromise any of the 5 objectives. This involved many, many hours of painstaking research, followed by many more hours of testing to ensure that all 5 criteria were met.
Objective no. 1 – High Performance; Our performance objective meant that our product had to be best, or equal to the best in class. We didn't want to provide our customers with an inferior product. We don't want to be Pepsi competing with Coca Cola. We want to BE the Coca Cola of the Flash Rust Inhibitor / Salt Remover additives. So when developing BlastX 108, we always benchmarked it against the industry leaders.
And we weren't going to be happy with the final formulation until we were absolutely satisfied that its performance was just as good as or better than our major competitors.
100's of hours of side by side comparison tests were performed using different types of abrasives, & under differing weather conditions until we were absolutely satisfied that the performance of our product was every bit as good as our major competitors, HoldTight 102, Chlor-Rid Hold Blast, & Dustless Blasting Rust Inhibitor additives.
That is why we are happy to offer our money back performance guarantee. If BlastX 108 does not perform as well as the Flash Rust Inhibitor /Salt Remover product you are using now, while at the same dilution ratios, ask us for a full refund of the purchase price!
Objetive no. 2 – Zero Surface Residue; Not only did we have to make sure our product thoroughly cleaned the surface so that all salts & residues were removed from the surface, & flash rusting was prevented, we also had to ensure that our product left no chemical residue's behind on the surface, that can cause their own problems.
Most surface cleaning products contain a mixture of detergents, solvents, silicates & phosphates, that leave residues behind on the surface being cleaned, & which then also have to be thoroughly rinsed off the surface with clean water before you can apply the protective coating.
BlastX 108 is has been developed as a One Step Cleaner, which requires NO after rinse. The complex chemistry in BlastX 108 evaporates off of the surface along with the blast or pressure washer water, & requires NO rinsing, & also does NOT interfere with the application or performance of any protective coating that will be applied afterwards.
Objective  no. 3 – Operator Safety; There is no point in producing a product that is the best in class in performance, if it is at the expense of operator safety. When using any flash rust inhibitor additive at high pressure, either through high pressure abrasive blasting equipment, or through a pressure washer, there is always going to be a certain amount of airborne mist that ends up in the atmosphere, & is then breathed in by the operator, especially since many operators of dustless / wet or vapour blasting equipment don't bother to wear a respirator, even when abrasive blasting.
We had to ensure that our product contained no Volatile Organic Compounds (VOC's), harmful vapours, or other particles that will cause irritation or long term health issues to the blasting operators airways or lungs through breathing the vapour. When used correctly & at the recommended dilution ratios while blasting or pressure washing, there are no ingredients in BlastX 108 that is likely to cause any irritation or long term health issues to the blast operators airways or lungs.
We DO however still recommend that the blast operator wears an approved respirator when dustless / wet/or vapour blasting, as the operator is still likely to ingest & breathe in airborne abrasive & blast residue (such as paint particles etc), which in themselves can irritate the airways & lungs, & possibly cause future health issues with long term exposure. We also recommend as a precaution, that the operator also wear a respirator when pressure washing with BlastX 108 if the operator suffers from asthma, or any other respiratory disease.
Objective no. 4 – Biodegradability; As many operators of dustless blasting equipment operate a mobile service, where there is often minimal or no containment of run off or residue. The last thing you want is for any harmful chemical residues ending up on your customers lawn or garden, or in the stormwater drains, ultimately polluting the waterways.
It is also important for all business operators be able to comply  with all local & state environmental regulations, when it comes to dealing with runoff from their blasting operations.
We have ensured that all ingredients used in BlastX 108 are biodegradable, non persistent in the environment, & not harmful to any aquatic, animal or plant life, especially when used at the recommended dilution ratio's. All ingredients used in the formulation comply with all local & state regulations regarding biodegradability.
Objective no. 5 – Cost Effectiveness; While meeting all of the above criteria, we also wanted to make certain that our product was cost effective, & able to compete in the marketplace against our competitors. However in order to achieve this, we also wanted to ensure that we did not use any substandard ingredients, or dilute the product, forcing the operator to use more product to achieve the same results.
We are able to provide a quality product at a more than competitive price. We have achieved this by manufacturing the product right here in Australia. Our packaging is also manufactured in Australia, & our labels are printed in Australia. The majority of our competitors manufacture their product in the USA. There are therefore considerable shipping costs & unfavorable exchange rates that have to be accounted for.
In addition to providing a quality product at a competitive price, we are also providing jobs for Australians, supporting Australian manufacturing, & keeping wealth & taxes here in Australia.
What are the benefits of using BlastX 108 in your Blasting Business?
If you are applying paint or other coatings over a contaminated surface, the coating is likely to fail prematurely.
BlastX 108 leaves a completely clean rust free & contaminant free surface, for up to 72 hours* after wet or dry blasting.
Wet abrasive blasting with untreated water causes flash rust, while dry abrasive blasting embeds shattered blast media, salt residue & paint particles into the roughened surface. Adding BlastX 108 Flash Rust Inhibitor / Salt Remover additive to the blast water during wet blasting, or to the cleanup water in a pressure washer for cleanup after dry blasting, or Soda Blasting, removes all contaminants from the blasted surface.
By adding BlastX 108 to the blasting water, or pressure cleaning water after blasting, it removes contaminants such as embedded blasting media, paint particles, salts, grease, oils, & residue, which also resists rusting for up to 72 hours*, or even longer.
And unlike other cleaning products, BlastX 108 leaves NO residue or film which can also interfere with coating adhesion.
The completely clean surface is ready to paint or surface coat as soon as the surface is dry of all water, & will ensure the full life of the coating is achieved, without premature failure due to inadequate surface preparation.
Not Just for Use on Steel Surfaces!
BlastX 108 isn't just for use on steel either. Almost any surface (apart from wood) that you are intending to paint or coat will benefit from being pressure washed with BlastX 108 after wet or dry abrasive blasting, or machine cleaning, such as aluminium, fibreglass, concrete or composites.
BlastX 108 is made & packaged right here in Australia, for Australian conditions.
*72 hours or longer can be achieved in the right weather conditions with no rain & the temperature above 4 deg. C, & when applied according to the usage instructions. In the right weather conditions, much longer then 72 hours with no rust can often be achieved.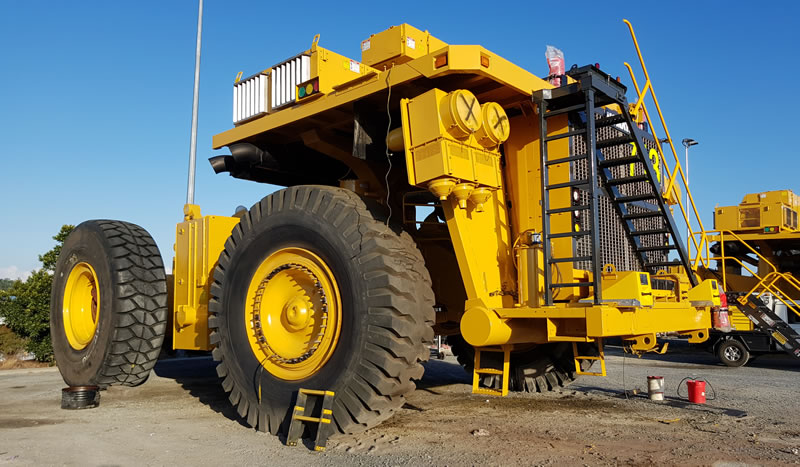 This is how we performed 100's of hours of testing of BlastX 108 side by side with other rust inhibitor / salt remover products over several months. These large mining trucks (see image above) were stripped, & dustless / wet blasted onsite, before being repainted & put back together, restoring them like new. Around 15 trucks had to be stripped & repainted.
The surface had to meet Australian standards AS 1627.9—2002 – 'Metal finishing—Preparation and pretreatment of surfaces', prior to painting with 2 pack epoxy paint.
No flash rust was allowed, & the surface also had to be Bresle salt contamination tested before painting, to ensure that the blasted surface met the standards of Chloride salt contamination & cleanliness prior to coating. Blasting on each truck took place over several days, & so the surface had to resist flash rust for 6 or 7 days at a time before being painted.
Blasting was performed with BlastX 108 in the blast pot at 100:1 dilution ratio, with a further pressure wash with BlastX 108 also at 100:1 dilution ratio a day or two prior to coating, before being Bresle tested in several locations.
The surface usually easily passed the Bresle test. On the rare occasion the surface did not pass the test (about 3 times from over 100 test sites), it was due to operator error at not cleaning the surface correctly, & after an additional pressure wash with BlastX 108, the test site then passed easily.
Abrasive Blasted Steel surface cleaned with pressure washer & BlastX 108, prior to applying protective coating.